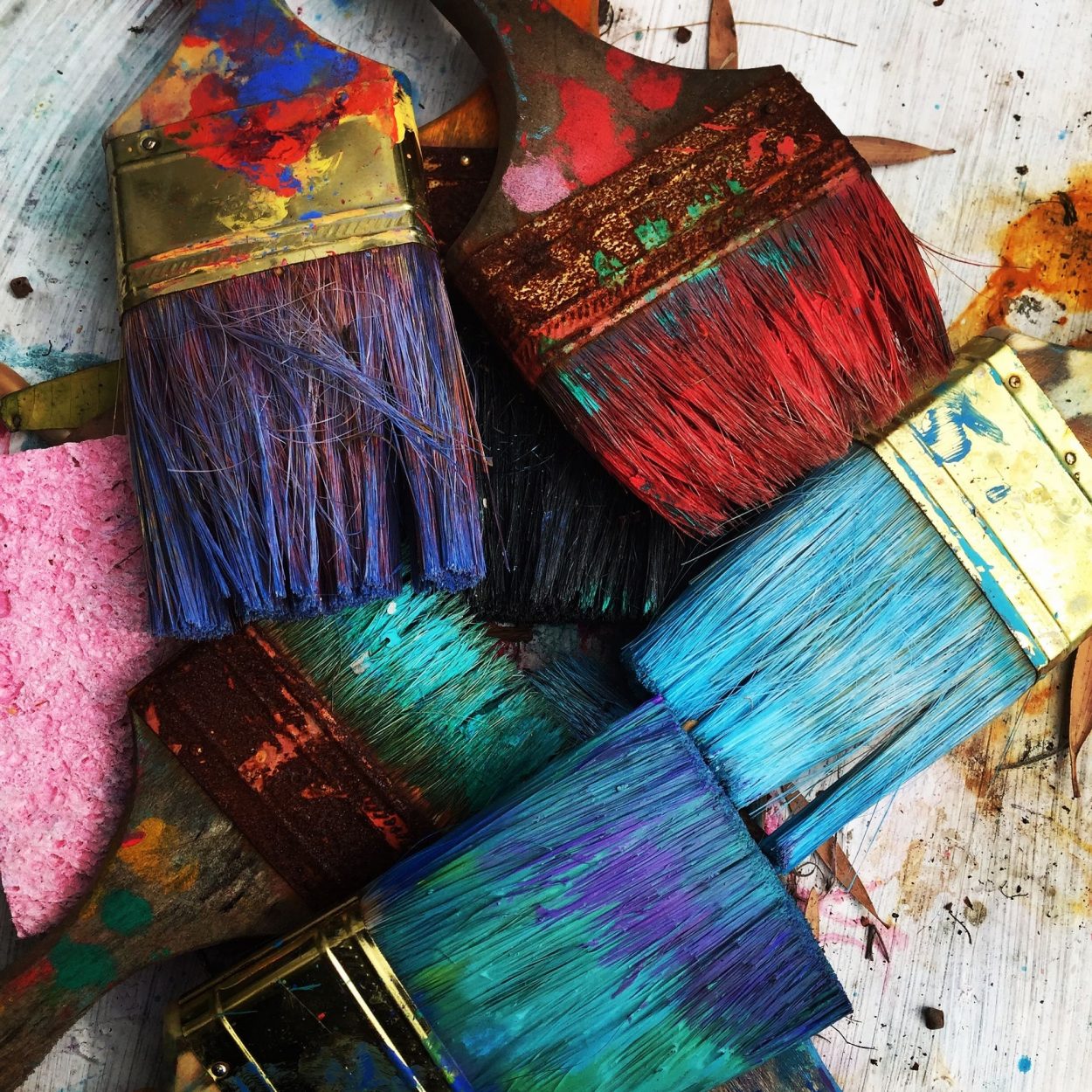 As you might have noticed, CrispWP is not only the blog about WordPress, we are an Agile WordPress Studio. And we are doing any kinds of WordPress tasks, from support, theme/plugin development and redesign of existing websites to creation of new landing pages/business websites or online shops.
Today we decided to led some light on the project initiation process, in other words: what's happened after you decided that you want a new website (OR, just need some help with existing one).
To make it pretty easy: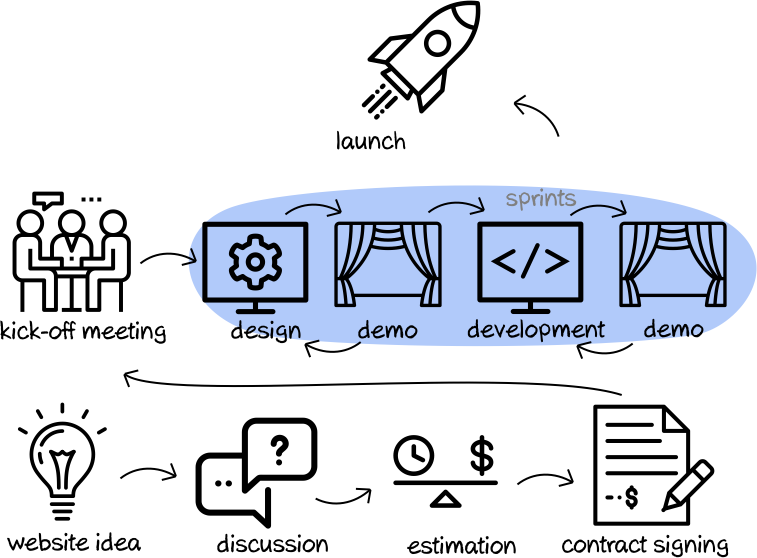 If we are out of your expectations then we can try to re-frame the task or start with a smaller piece based on priorities.
Just a few words about what Agile means.
Agile/Scrum approach helps us being fast and flexible in doing our job.
We tend to spend less time for writing the documentation, instead we use other means to collect, check and share the requirements: we use more pictures than words to explain the task or the issue.
We deliver the high priority features first. So you can go live quicker and check if your idea works, and start making money, while optional features are being developed later on. It is essential to understand the priorities that usually become clear after getting the idea of your business.
We think in terms of goals, knowing that different technical solutions can do the same, but the understanding of the goal and limitations helps to choose the optimal one. It means we leave technical issues for developers to save time for documentation.
We use reasonable automation.
The communication is the key to shared knowledge and understanding. We use scrum approach for team meetings. We use checklists, meeting notes, meeting recording tools – to ensure that every minute is spent efficiently and nothing is lost/forgotten. Be ready to spend with us up to 2 hrs per week to check the current results, give us the feedback and update the priorities.
What is magical about Agile, is that we run continuous process improvements based on reviews of our wins and fails. And we are open for any propositions – please let us know what you think might be done better!
To start:
There are several ways to inform us about your intent:
You can fill in our Order form and choose the package you'd like to buy
You can write to the Contact form
You can Skype us
or You can call us (Note: for German speaking people, call this number: +(493) 03 119 96 91)
Usually, we speak English (and Ukrainian :)) but we do understand written German, French, Italian and Dutch 😉
So, once you have contacted us and gave us your preliminary idea, we can start with the basic requirements collection to estimate the efforts and discuss the project implementation details.
Packages
If you selected the package from the Order form we suppose, that you already had enough thoughts about your website structure, features, images to use and the texts. In this case, you already know the price and the duration of making the live version with several pages filled in with content. For instance:
Business core is the package, that includes providing responsive theme based design, basic SEO optimization, feedback/contact us forms and admin area, with the 3 month warranty period. The working process takes not more than one week, so you'll get your website ready in several days with 3 sample pages filled with your content. Then you can proceed by yourself, we can help you if required.
We'll show you how to work with Admin area and within three months after the contract signing we are ready to fix any issue you find in initial implementation for free (but we'll do our best to minimize the number of such cases, so you could just enjoy the nice and stable work of your website).
Custom development
If you want a new website or existing website redesign with our help, we'll definitely ask some business questions:
What is your product/service?
Who is your target audience?
What do you expect people to do/feel during/after visiting your site?
What are your corporate core values and how do you express them to your visitors?
What makes you different from your competitors?
Big projects need a detailed discussion of requirements. Be sure to get lots of questions, as a guarantee of our absolute understanding of your wishes. The more precise is our understanding, the more final product will correspond to your idea.
If you are OK with the estimate we can sign the contract and finally GO!
In the contract, you will find the description of the scope, price, warranty period and flexible part. Sometimes the choice has to be made in course of the process, or you might change your mind on some features after touching them in reality, or the market has changed and you have to change your priorities! In that case, we envisaged the flexible part with an hourly rate, that allows amendments during the working process.
And with the warranty period you can be sure in our support even after the release: free fix of hidden flaws (missed during testing – we are just people, we can make mistakes, but we are ready to fix them quickly saving your time and nerves!) within 2-3 months (depends on project size).
Note: please send us the design source files, the images in high resolution. If you want to fix an existing website then we would need an access to WP-Admin and FTP credentials.
Once the contract is signed, everything is ready for the kick-off. The main goal of that meeting is to give the common understanding of project's goals and objectives. Team members get familier with the aims of the projects and ways of implementation.
Internal kick-off is followed by the introduction meeting with you (the client). 5-15 minutes call to get acquainted with the project coordinator and other team members (if we find it reasonable based on the project complexity and duration). The goal of this call to agree on project flow and the basic communication rules.
When working on the design we use InVision as a prototyping tool, that makes the collaboration fairly easy. It allows sharing of clickable wireframes and design drafts with you and all the team members, and you can leave your comments right in the application. So that will relieve us from sending emails, screenshots, PDF documents and other routine things.
All source codes are stored in the version control tool (we use Git), so every member of the team has a copy of the source code with the full history of changes. And you can be sure that nothing will be lost, all changes are tracked and in the case of any failure, we are able to restore the whole website quickly. And it is much better than just backups!
On the first project demo, you will get the access to the test server we set up for every project where you can review the work done and propose the required corrections.
The final updates culminate in the launch of the project, that means everything is ready and done well. We will obviously support your websites stable work and fix any troubles that may occur. So that the idea you came with will lead you to success!
The working process can be complicated sometimes. But we know it for sure, that mutual understanding makes any thorny path a walk on a red carpet!
Got a website idea? Let's discuss it!Icons made by Madebyoliver from www.flaticon.com is licensed by CC 3.0 BY